About Us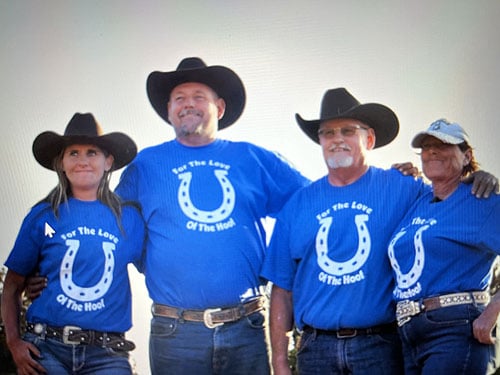 For the love of the Hoof was founded in 2018 in Tucson, Arizona in the Catalina mountains.
Wendy grew up with horses, and the love of them never died. Wendy hired Brandy to help with the horses in 2004. Soon there after Wendy introduced Brandy to her son, David and the rest is history. Wendy and Brandy continued their passion for horses over the years. Soon they discovered there was a great need for horses to be rescued from the slaughter pipeline so they founded For The Love Of The Hoof and followed their passion to rescue horses that were in danger of going to slaughter.
Brandy brings great knowledge and experience to the rescue not only as a trainer but as a helper for medical care. Brandy was a vet tech assistant for a veterinarian in Buckeye, Arizona before coming to work with Wendy. This knowledge helps in the daily medical care that some of the horses need.
While running the rescue in Catalina AZ even though beautiful as it was, it was soon apparent that the rescue needs were growing and more space was needed. The family sold their land, picked up their belongings and headed for northern AZ where, together, they bought a 40 acre parcel of bare land. They knew it was going to be difficult starting fresh with nothing there, and knowing that they only had a short amount of time to get things built and comfortable for their rescues.
Some criticize, or wonder how we can run a successful rescue in such an isolated area. It's not without its challenges, such as having to haul our own water. However, hauling your own water is really not any different then getting city water out of a tap. After all, there is challenges in the city for water, such as water restrictions, city, maintenance, quality of water, and a very big city water bill. Here at for the love of the hoof we might have to haul our water, and if we can't, there is access to a water hauling company. We have the ability to store eight thousand gallons of water here which helps us on a daily basis. The good news is that our water bill is a lot less than if we were to be in a city. We don't run the risk of poor quality of water or water limitations and restrictions. In fact if something would happen to our city well where we currently get our water we have access to several wells around our area that we can access for free.
Being remote does give us some advantages over those that run a rescue in city limits or close to a city. One of the advantages that we have is that we don't have to worry about neighbors complaining about flies or someone not liking horses, the noise, the smell, the crowds, the crime, or the endless traffic. What we do have is beautiful, wide open spaces, where the deer and the antelope play, where people are not present daily, and there is peace and beauty waiting when the rescues come home to safety.
We don't have to worry about adopters making the trip on dirt country roads because our rescue, UNLIKE many others, delivers over 90% of the rescues to their forever homes. Not only does this help out so many adopters, but it also give us the opportunity to see first hand where the rescues are really going. In some cases we even will follow the adopter back to their location just to make sure they arrive safely and the rescue settles in without stress.
Settling in northern Arizona was planned due to the great need of horses in this area. For The Love Of The Hoof not only services all of Arizona, but the surrounding states as well. Wherever there is a horse that needs to be rescued, For The Love Of The Hoof will put their boots on the ground and save a horse from a horrific fate. Our goal is to rescue as many as we can, rehabilitate them, and give them a second chance at life.
Our organization is run with the dedication and hardworking spirit of Wendy, the knowledge of training from Brandy, the skilled professionals of Jim and David that keep our facility in working order, and their ability to handle the horses when needed. We are also very fortunate to have a team of equine professionals at our disposal such as a kind and extremely knowledgeable veterinarian who is always available to answer any questions that our staff might have and makes it a priority to come to our rescue when we need him, a patient and kind farrier which is hard to find since not every farrier will work with a rescue horse, and an outstanding knowledgeable equine chiropractor.\
Most of all we pride ourselves on having a clean and stress free facility where the rescues can lay their heads after a long journey of uncertainty. Our goal is to save one hoof at a time.

MAKE A DONATION